Karen Vladeck (recruiter, former employment partner, mother of two young girls, and host of the podcast "In Loco Parent(i)s") isn't a regular mom, she's a cool mom. And by that we mean she has a career and personal life that anyone would want to emulate, but the way she keeps it real keeps us from hating her *side-eyes Gwyneth Paltrow.* So for Mother's Day, we asked Karen to share her most candid advice, as someone who's been in the trenches, for moms working in law.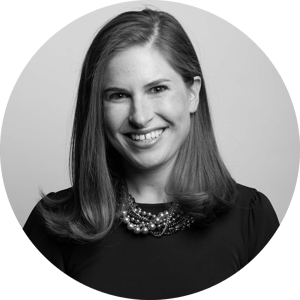 Not all law firms (or groups, or partners) are created equal
"Even within the Big Law-sphere, there are practice groups and partners who have different approaches to letting their associates or junior partners have a work-life balance. Associates in general are so much more aware of their options now than they were when I was starting my career, but it's impossible to know how every group and partner at another firm functions, so you need guidance from someone who has that insider knowledge and who knows the particulars of your situation. I've had candidates ask me about working in particular groups and I've told them point blank 'I'm not sure that would be great for your kids right now.'"
Get as much outside help as you need
"I think it is a disservice that parents in demanding industries like Big Law don't talk about just how much outside and hired help they have. A lot of people, especially women because we have this completely unfair sense of guilt, hide how much outside help they get. That just makes people think that it is possible to have a Big Law career and children without outside help, and it's just not.
"Complete transparency: the only way that my husband and I have been able to keep working the way that we do, is having a twice a week housekeeper and an after-school nanny who's with my girls from 3-5 (or 6). And our schedules aren't as demanding as those of a family with two parents in Big Law, who very easily might need a full time nanny. Bring into your family unit whoever you think will make life easier for you."
Accept the ebb and flow
"There is going to be give and take within your relationship with the amount of work versus childcare at any given time. I think it's really hard for two people to be going 100% all out at the same time. My husband and I have been very lucky in being able to ebb and flow. For us it wasn't ever a conversation of 'hey, I'm going to trial now, so you pull back' or 'hey, I'm writing my book now, so you pull back.' It happened more organically than that. But knowing that it's ok to take a backseat sometimes, or to push forward at other times has made things more manageable for us."
And get yourself an Ember
"My friends say 'does Ember pay you? Because all you do is try to get people to buy the Ember mug.' And they don't pay me, although I'm not averse to being sponsored (hit me up, Ember). Embers are coffee mugs that keep your coffee at the same prescribed temperature. And the reason that this is a big deal for a mom, is that I often make a cup of coffee, put it down, and then come back to it 5 minutes later. And in a non-Ember mug, that coffee is now cold. But in an Ember mug.... it's perfect."
For more from Karen on parenting and lawyering, subscribe to In Loco Parent(i)s below. Or, if you want the one-on-one experience, reach out to karen@whistlerpartners.com about a career move.