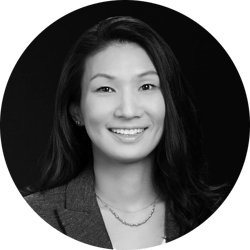 Whistler Partners is pleased to announce the placement of Jean Park as a public companies partner in Cooley's New York office. Park was previously the head of Simpson Thacher's emerging growth companies practice.

"Jean is an exceptionally talented lawyer who will seamlessly integrate into Cooley, and her arrival meaningfully broadens and deepens our capabilities to serve our ever-expanding client base of late-stage private companies and public companies, particularly on the East Coast," said Jason Kent, who co-chairs Cooley's public companies practice group.
Jean will be joining a team that is the #1 for taking companies public since 2014, and represents around 240 public companies.
The placement was led by Whistler's founder Sean Burke, who has "known Jean Park for nearly a decade and couldn't be more thrilled to have helped her make the move to Cooley LLP. Her journey is the perfect example of how Whistler Partners-style recruiting works: we first met because of our mutual interest in tech, but we stayed in touch all of these years because she trusted that when the right opportunity came along, we would bring it to her."

To learn more about the move, you can read the Bloomberg Law article HERE or Cooley's statement HERE.